Gjetost Hard Cheese
£5.00 Per 200g
A Norweigan delicacy, that's as sweet as caramel, with a sticky, fudge-like texture.
Gjetost is a concentrated, sweet block that tastes more like butterscotch than like actual cheese.
Made from the whey, rather than the curds.
Out of stock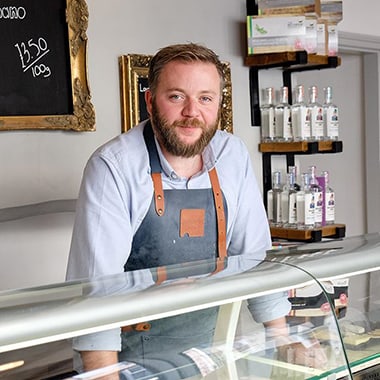 Quote from the Cheesemonger:
"One of our most unusual… More commonly found in the lunchbox of a crosscountry skier!" – Harry B.
This cheese has a distinctively sweet caramel flavour with a slightly firm texture. It is the staple cheese of Norway and works well melted or not.
Flavour Profile
Fudgy texture, caramelly flavour, very different for a mixed milk cheese – there's a sweetness to it which you wouldn't expect. And yes we know the colour is a bit odd, but its brownness is due to the milk being boiled! Cool eh?
Drink Pairing
There is no messing around with this one… Beer all the way.
About the Maker
Tine is one of Norway's largest dairy production cooperatives! They use clean, natural and raw materials to produce tasty and healthy products. Tine are also incredibly environmentally conscious and aspire to give back to their communities – making them an amazing company to support.
How to Enjoy
This is best eaten in thin slivers with crusty bread! The Norwegians love it melted on toast or waffles… why not add some chopped bananas for a weird but wonderful breakfast.
Our utmost concern is get you the right cheese in the right condition right to your door. All orders are posted on a next day service so as not to spend too much time in transit. Each package will come with a gel ice pack to keep the temperature in the box as low as possible.
Standard Delivery

£6.00

Delivery within mainland UK, highland and Islands of Scotland, 3 - 5 working days.

Free Delivery

Free

Free over £40 for all mainland UK orders, 3 - 5 working days.

Local Delivery

£5.00

Set within the allocated postcodes specified. Delivery will be arranged directly.

Local Pickup

Free

Pickup directly from our York shop. We will contact when your order is ready.

Free Local Delivery

Free

Local delivery when orders are over £40, Delivery will be arranged directly.