Langres Soft Cheese
Unparalleled in richness, smooth and supple texture. Melt in the mouth.
The washed, orange rind has a strong aroma that hides a crumbly yet unctuous centre.
Langres has a mild, salty flavour with a luscious booziness.
In stock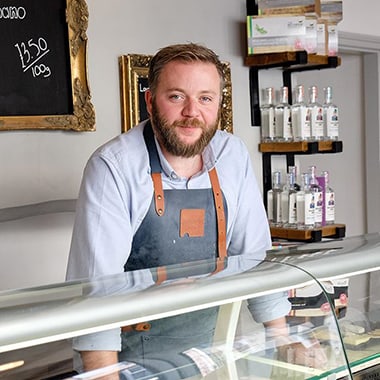 Quote from the Cheesemonger:
"Run out of glasses? Just pour some Champagne in the dip, and put a slit in the top to let the bubbles work their magic through the cheese." – Harry B.
Another smelly French cheese to delve into and tickle the taste buds! This cheese is milder than the renowned Epoisses but it is still salty and strong on the nose. Each bite leaves a melt-in-the-mouth feeling offering complex fruity flavours for you to indulge in.
Cute story alert!! Most cheese is usually flipped to have two flat sides, but langres is left on one side creating a natural dip in the top. This is because the french have langres as a celebratory cheese – so when they go to have it, they would cut a cross in the dip the night before and would pour prosecco into the cheese – the next day they would cut it open and enjoy this liquid gold concoction.
Flavour Profile
This cheese is washed in champers, giving the cheese a great flavour! It is slightly chalky on the inside and gooey towards the rind! Due to the wash, the rind is more punchy but the cheese itself is sweet and delicious
Drink Pairing
A French Cheese deserves a French wine!! We recommend Bourgogne, our light french pinot noir. Or… if you fancy a splurge, treat yourself and pair with champagne!
About the Maker
The Langres we sell comes directly from Hennart! Hennart's company takes an approach to cheese based on know-how, technical excellence and the passion of its staff, matures, processes and gives value to the cheeses maturing day after day in their caves, farm cheeses or artisan cheeses mainly from raw milk.
How to Enjoy
Don't spoil it – have this on its own and keep it for special occasions … like a birthday, graduation or a Tuesday…
Our utmost concern is get you the right cheese in the right condition right to your door. All orders are posted on a next day service so as not to spend too much time in transit. Each package will come with a gel ice pack to keep the temperature in the box as low as possible.
Standard Delivery

£6.00

Delivery within mainland UK, highland and Islands of Scotland, 3 - 5 working days.

Free Delivery

Free

Free over £40 for all mainland UK orders, 3 - 5 working days.

Local Delivery

£5.00

Set within the allocated postcodes specified. Delivery will be arranged directly.

Local Pickup

Free

Pickup directly from our York shop. We will contact when your order is ready.

Free Local Delivery

Free

Local delivery when orders are over £40, Delivery will be arranged directly.