Wigmore Cheese
A delicately balanced ewe's milk Brie.
Distinct floral and fruity notes that are silky on the palate.
Wigmore is a traditional hand-made washed curd cheese, a method of cheese-making used widely across Europe
In stock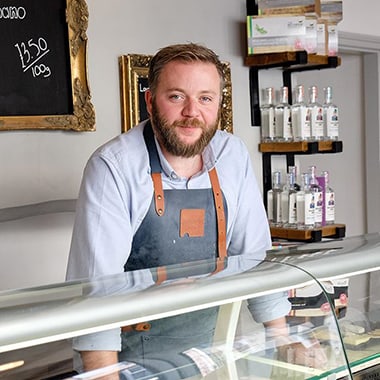 Quote from the Cheesemonger:
"It's best complimented by a glass of Cabernet Merlot. Or Ruby Port." – Harry B.
Made in Berkshire by the Wigmores, this cheese bears the name of its cheesemaker, and we deem it worthy. Anne Wigmore spent 10 years working at the National Institute for Research in Dairying before setting up the Village Maid Dairy. As a couple, they spent time yachting in the interim, furthering their knowledge of cheeses from all around the globe. They were particularly taken by the ewe's milk cheeses of Sardinia.
Whilst we could talk about Wigmore Cheese for as long as you'll listen, cheese-guru Juliet Harbutt said quite eloquently, Wigmore has "taste sensations of wild flowers, burnt caramel, macadamia nuts and roast lamb".
Wigmore cheese is best enjoyed as both a sweet aperitif, and coupled with pear segments and walnuts as a sweet dessert because of the fruity mellow flavours.
Our utmost concern is get you the right cheese in the right condition right to your door. With that in mind please allow 3-5 working days for your cheese box to arrive.
However the package will be posted on a next day service so as not to spend too much time in transit. Each package will come with a gel ice pack to keep the temperature in the box as low as possible.
Please do contact us for any further info.