Waterloo Cheese
The Napoleonic British brie. Exquisitely buttery.
Waterloo has a creamy, firm texture and the ultimate buttery finish.
This is the perfect soft cheese for any cheese board, or any occasion.
In stock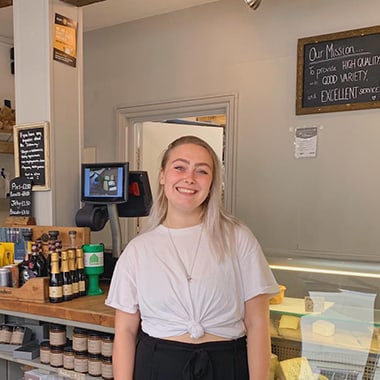 Quote from the Cheesemonger:
"Buttery, creamy goodness with a hint of earthiness from the rind. I love it on warm toasty white bread, held under the grill for a few minutes and topped with my current favourite chutney. Perfection." – Mollie W.
Waterloo is a mild, semi-soft delicacy produced by Anne and Andy Wigmore of the Village Maid Dairy.
Anne spent 10 years working at the National Institute for Research in Dairying before setting up the dairy, this experience must have taught her a thing or two, this is the work of a cheese aficianado.
The washed curd method they use makes the cheese less acidic with a gentle buttery flavour. Their herd of pedigree Guernsey cows are responsible for the distinct yellow colour and the sweet and smooth taste.
Our utmost concern is get you the right cheese in the right condition right to your door. With that in mind please allow 3-5 working days for your cheese box to arrive.
However the package will be posted on a next day service so as not to spend too much time in transit. Each package will come with a gel ice pack to keep the temperature in the box as low as possible.
Please do contact us for any further info.