Ribblesdale Mature Goats Cheese
From a sweet and grassy aroma, to a crumbly texture, this cheese will definitely have you coming back for second helpings.
Ribblesdale Mature is nutty, fruity and has a slightly caramelised milk flavour, while closer to the rind it becomes more 'goaty' and rounded – but always balanced.
Out of stock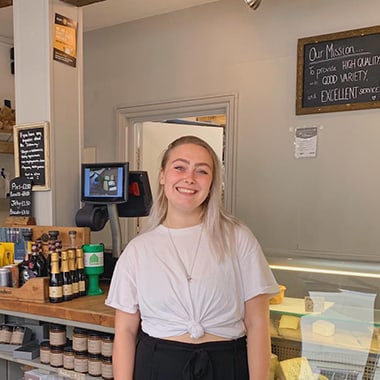 Quote from the Cheesemonger:
"It's very interesting. You don't expect that kind of sweetness from a goats cheese but it's surprisingly delectable!" – Mollie W.
Here is a cheese that will demand second helpings – and with good reason! It's sweet and grassy aroma combined with a superb crumbly texture giving a perfect combination.
This is a goat's cheese that is subtle on the goat, Ribblesdale Mature provides nutty, fruity flavours with a slight caramel hint that compliment each other in unison to create a well-rounded and balanced cheese that becomes slightly more 'goat-y' as it gets to the rind.
Flavour Profile
Nutty, fruity with a slight caramel undertone giving a much welcomed sweetness. If you're not a goats cheese person. This is a good place to start.
Drink Pairing
This goes sublimely with our Bolney, Lychgate Red.
About the Maker
Ribblesdale was formed in 1978 and now ran 2 cheese makers with a little help from friends and family. They're family owned and have been making a variety of award winning handmade cheeses from Ribblesdale ever since.
How to Enjoy
Shaved with rocket and balsamic vinegar. Just delicious.
Our utmost concern is get you the right cheese in the right condition right to your door. All orders are posted on a next day service so as not to spend too much time in transit. Each package will come with a gel ice pack to keep the temperature in the box as low as possible.
Standard Delivery

£6.00

Delivery within mainland UK, highland and Islands of Scotland, 3 - 5 working days.

Free Delivery

Free

Free over £40 for all mainland UK orders, 3 - 5 working days.

Local Delivery

£5.00

Set within the allocated postcodes specified. Delivery will be arranged directly.

Local Pickup

Free

Pickup directly from our York shop. We will contact when your order is ready.

Free Local Delivery

Free

Local delivery when orders are over £40, Delivery will be arranged directly.