Black Bomber Cheese
Don't panic! It's just a cheese, but as the name suggests, it's pretty powerful.
Black Bomber Extra Mature Cheddar Cheese is a moreish blend of rich, sharp flavours and has a smooth creaminess on the palate.
It's creamy and sharp, but balanced with a certain sweetness.
In stock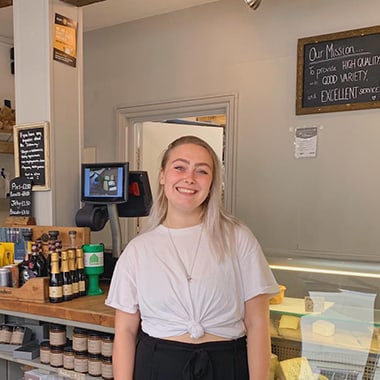 Quote from the Cheesemonger:
"Perfect for any occasion and really satisfies that 'proper' cheddar craving! It comes in little waxed truckles (200g) too, so is perfect for hampers or gift baskets!" – Mollie W.
This cheddar cheese is the flagship of Snowdonia Cheese Co. and is now widely regarded as a modern classic. This extra mature cheddar is an all round crowd-pleaser, and very popular with our regulars; it has a moreish blend of sharp, rich flavour, and smooth creaminess on the palate. This cheese is wrapped in black wax, and as opposed to traditional cheddar, it helps retain moisture and yields a much smoother texture.
As recommended by Snowdonia Cheese Co., try enjoying the classic Black Bomber with fresh crusty bread and a quality chutney or relish. From the cellar, it is best paired with a Cabernet Sauvignon, or a fresh Chardonnay.
Find out more about the Black Bomber Cheese by just reaching out to us, we will be more than happy to help you.
Our utmost concern is get you the right cheese in the right condition right to your door. All orders are posted on a next day service so as not to spend too much time in transit. Each package will come with a gel ice pack to keep the temperature in the box as low as possible.
Standard Delivery

£6.00

Delivery within mainland UK, highland and Islands of Scotland, 3 - 5 working days.

Free Delivery

Free

Free over £40 for all mainland UK orders, 3 - 5 working days.

Local Delivery

£5.00

Set within the allocated postcodes specified. Delivery will be arranged directly.

Local Pickup

Free

Pickup directly from our York shop. We will contact when your order is ready.

Free Local Delivery

Free

Local delivery when orders are over £40, Delivery will be arranged directly.