Cropwell Bishop Stilton Blue Cheese
A punchy and robust flavour. With a unique earthy depth.
In stock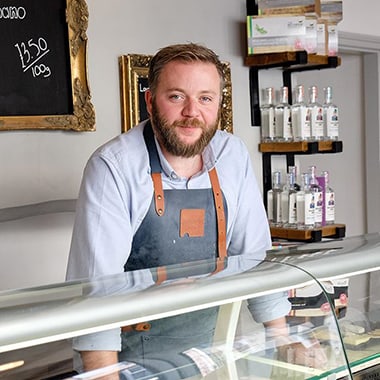 Quote from the Cheesemonger:
The only Stilton to be served on concorde, making it the fastest Stilton of all time.
Cropwell Bishop is crafted by hand using methods that have hardly changed since the 17th Century.
With this cheese, you'll be getting a traditional, hand-ladled blue stilton from Nottinghamshire! It's smooth, creamy and open textured. Expect a buttery and complex flavour with a slightly spiced yet long finish!
Flavour Profile
Another great Stilton with a bit more of a punch! You can expect all the Stilton qualities – it's creamy, salty and acidic but comes with a thick flavour and a bit of a bite!
Drink Pairing
A strong cheese can only be enjoyed with a strong wine! We recommend our house favourite Miss Harry shiraz… smooth and full of flavour.
About the Maker
Cropwell Bishop Creamery have been going since the late 1800's, with the Skailes family who have been making cheese for over 160 years! In 1981, David and Ian Skailes took the helm from their father, and became the joint managing directors of Somerset Creameries. A few years later they sold North Street Dairy in Melton Mowbray and invested the funds into Cropwell Bishop to make it the world-class dairy it is today.
How to Enjoy
Nibbled or melted onto a burger for an extra kick – this is a blue that won't diminish in flavour when melted
Our utmost concern is get you the right cheese in the right condition right to your door. All orders are posted on a next day service so as not to spend too much time in transit. Each package will come with a gel ice pack to keep the temperature in the box as low as possible.
Standard Delivery

£6.00

Delivery within mainland UK, highland and Islands of Scotland, 3 - 5 working days.

Free Delivery

Free

Free over £40 for all mainland UK orders, 3 - 5 working days.

Local Delivery

£5.00

Set within the allocated postcodes specified. Delivery will be arranged directly.

Local Pickup

Free

Pickup directly from our York shop. We will contact when your order is ready.

Free Local Delivery

Free

Local delivery when orders are over £40, Delivery will be arranged directly.