Hebridean Blue Cheese
A mature blue, with the strength of a highlander.
Spicy, salty and creamy. Hebridean Blue is one of Scotland's most iconic cheeses.
Full salt, full acid, full heat.
In stock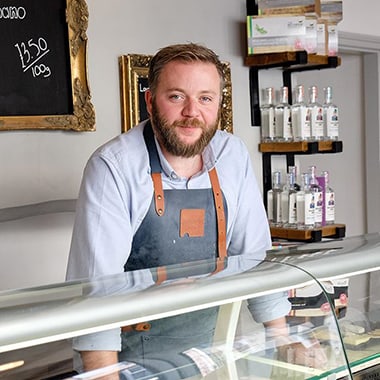 Quote from the Cheesemonger:
"If you like blue cheese, you'll like it a lot; if you hate blue cheese, you'll pay someone to come and remove it from your fridge." – Fromage Homage.
Made by Jeff and Chris Reid on Scriob Ruadh Farm on the Isle of Mull, Hebridean Blue could quite possibly be the bluest blue in the land (Britain that is).
Somerset-dwellers originally, the Reids moved to the farm near Tobermory in 1979, well known for it's bright buildings. They use a mixed herd of cows that are all milked on a morning. This milk goes straight into cheese production, mainly their cheddar.
It is often compared to Stilton with its strong, tangy nature, however, we find more floral notes with a firmer texture. It is aged for up to 8 months and sits firmly in the realm of strong blue cheeses.
Shoot us across a message if you would like further recommendations about the Hebridean Blue Cheese or you would just like to learn more, the Love Cheese customer service team will be happy to help you.
Our utmost concern is get you the right cheese in the right condition right to your door. All orders are posted on a next day service so as not to spend too much time in transit. Each package will come with a gel ice pack to keep the temperature in the box as low as possible.
Standard Delivery

£6.00

Delivery within mainland UK, highland and Islands of Scotland, 3 - 5 working days.

Free Delivery

Free

Free over £40 for all mainland UK orders, 3 - 5 working days.

Local Delivery

£5.00

Set within the allocated postcodes specified. Delivery will be arranged directly.

Local Pickup

Free

Pickup directly from our York shop. We will contact when your order is ready.

Free Local Delivery

Free

Local delivery when orders are over £40, Delivery will be arranged directly.