Hebridean Blue Cheese
£6.60 Per 250g
Made by Jeff and Chris Reid on Sgriob-Ruadh Farm on the Isle of Mull, Hebridean Blue could quite possibly be the bluest blue in the land (Britain that is).
It's a mature blue, with the strength of a highlander. Expect full salt, full acid, full heat.
Spicy, salty and creamy. Hebridean Blue is one of Scotland's most iconic cheeses. If you love blue, you will LOVE this!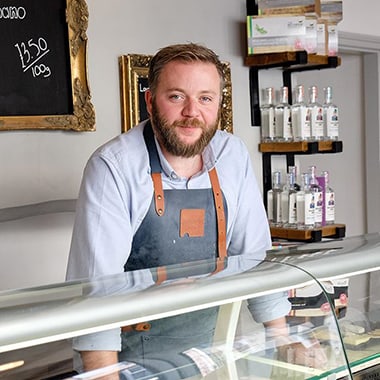 Quote from the Cheesemonger:
"If you like blue cheese, you'll like it a lot; if you hate blue cheese, you'll pay someone to come and remove it from your fridge." – Fromage Homage.
Flavour Profile: It is often compared to Stilton with its strong, tangy nature, however, we find more floral notes with a firmer texture. It is aged for up to 8 months and sits firmly in the realm of strong blue cheeses. It's well balanced, creamy, and subtle in flavour with a gorgeous crumbly texture. 
Drink Pairing: This strong contender needs a lovely deep red or a port! Ain't no two ways about it. Try our Don't Tell Gary Shiraz – a gorgeous deep red wine with loads of flavour or our Barros Special Reserve port… Our mouths are watering just thinking about it.  
About the Maker: A beautiful tale of the Reade family who dreamed of owning a farm on Mull and that they did. First generation farmers and their sons bought Sgriob-Ruadh farm and began their cheese making journey step by step and now they give us this phenomenal cheese. The Reade family farm uses its own sustainable sources to produce the energy it needs: wind, wood, and an on-site hydroelectric power plant. Their innovative heat exchange system uses heat removed from the milk in the evening to warm it back up for making cheese in the morning.
How to Enjoy: Nibbled with a generous glass of red wine or port!
Our utmost concern is get you the right cheese in the right condition right to your door. All orders are posted on a next day service so as not to spend too much time in transit. Each package will come with a gel ice pack to keep the temperature in the box as low as possible.
Standard Delivery

£6.00

Delivery within mainland UK, highland and Islands of Scotland, 3 - 5 working days.

Free Delivery

Free

Free over £40 for all mainland UK orders, 3 - 5 working days.

Local Delivery

£5.00

Set within the allocated postcodes specified. Delivery will be arranged directly.

Local Pickup

Free

Pickup directly from our York shop. We will contact when your order is ready.

Free Local Delivery

Free

Local delivery when orders are over £40, Delivery will be arranged directly.