Parmigiano Reggiano Cheese
Classic and brilliant.
Initially sharp, packing fruity and salty flavours then mellowing to a deep buttery finish.
This crystalline, grainy textured cheese has a beautifully strong and full aroma.
In stock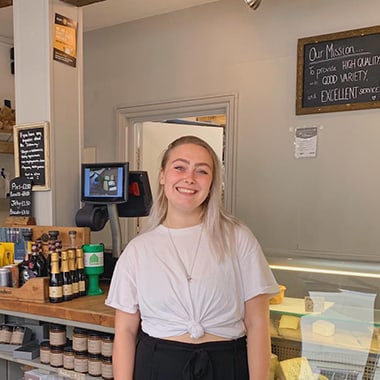 Quote from the Cheesemonger:
"A stunning, versatile classic. Sprinkle some grated Parmigiano Reggiano, and a handful of sun-blushed tomatoes on a classic Margherita Pizza for added depth." – Mollie W.
Parmigiano Reggiano is Italy's most famous cheese, if not the World's most famous.
All wheels are inspected at 12 months. The cheeses of the highest quality are then selected to further mature to 30 months. This process ensures we get the best possible product, with the distinctive saltiness being the hallmark of Parmigiano.
Today, it is produced by various producers. However, PDO designation states that for a cheese to be called as Parmesan, it has to be produced from cows grazing on fresh grass and hay. Parmigiano Reggiano cheese is named after the provinces in which it is made, namely Provinces of Parma, Reggio Emilia, Modena, Bologna and Mantua.
Parmigiano Reggiano cheese is best served grated over pastas, or even used in soups and risottos. It is also great eaten on its own as a snack.
Our utmost concern is get you the right cheese in the right condition right to your door. With that in mind please allow 3-5 working days for your cheese box to arrive.
However the package will be posted on a next day service so as not to spend too much time in transit. Each package will come with a gel ice pack to keep the temperature in the box as low as possible.
Please do contact us for any further info.