The Ultimate Cauliflower Cheese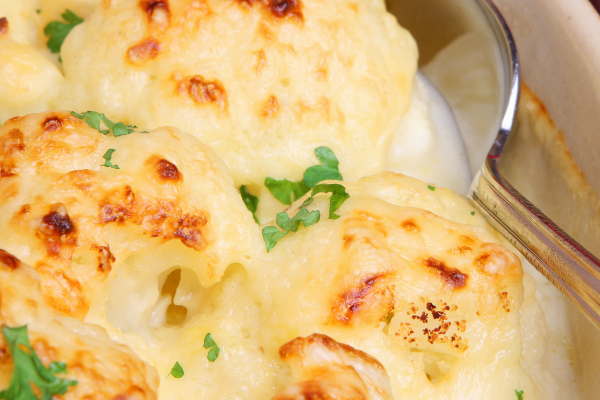 Whether you love it or hate it, we can all agree that cauliflower cheese is a staple of any Christmas dinner. Deliciously creamy and cheesy, this dish is a dream come true for us here at Love Cheese. Whilst your typical cauliflower sauce may only require a handful of cheese, naturally, we had to go the extra mile with this recipe! Enjoy a large helping of different cheeses, ranging from cheddar, Parmesan, and even brie, is your mouth watering yet?
The Cheese
For this triple cheese sauce we had to go with the best of the best.
First up we've got Black Bomber, a traditional style mature cheddar that is packed with rich flavours and a lovely smooth texture that's ideal for a sauce like cauliflower cheese.
Next, we have Parmesan, and we've gone for the classic Parmigiano Reggiano, a 30 month aged cheese that's rich in flavour with a stunning crumbly texture.
Finally, we've got Taleggio, a lovely fruity and mild brie that is great for melting. This soft cheese has been well aged to give the cheese a nice salty taste with a tang which is sure to bring some excitement to your sauce!
Ingredients
100g Butter
100g Plain Flour
1L Milk
300g Black Bomber
100g Parmigiano Reggiano
150g Taleggio
2 Cauliflowers ( cut into florets)
2 Bay Leaves
Recipe
Preheat oven to 220c/200c Fan/Gas Mark 7
Begin by melting butter on medium heat until foaming, stir in flour to form a thick paste
Stir frequently until mixture smells nutty and gradually stir in milk until mixture is of a glossy texture. Feel free to season with any herbs and spices at this point, go wild!
Whilst the mixture is cooling, start by steaming your cauliflower for 8-10 minutes or until tender to the touch.
Stir cauliflower into mixture and top with remaining Taleggio to make your cauliflower sauce extra cheesy!
6. Bake for 20-25 mins or until golden brown on top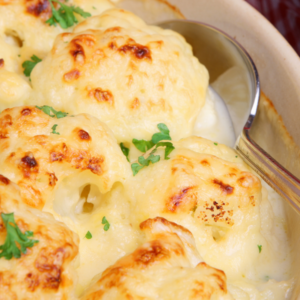 And there you have it! A simple yet delicious Christmas dish made Love Cheese Style. If you do make this recipe please make sure to show us on Instagram or Facebook @lovecheeseyork as we'd love to see your creations!
Love Cheese x
Written by Maddie Bricklebank