Brie de Meaux Cheese
Oh, Brie, what did we do to deserve you? 
We love all soft cheeses here at Love Cheese, but you cannot beat a good, classic Brie! And that's exactly what you'll be getting with Brie De Meaux. 
All the way from France, this is a soft, delicate, creamy brie with a stunningly bloomy rind and gorgeous buttery flavours that melt in the mouth. We love it. This is the perfect soft cheese for your cheese board, a great after dinner nibbler or decadent cheese snack!
In stock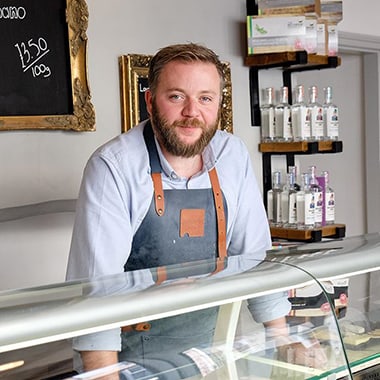 Quote from the Cheesemonger:
"The best things in life are brie, and this French classic does not disappoint…" – Harry B.
Flavour Profile: This is a raw, soft unpasteurised cow's milk cheese covered with a bloomy rind, a result of inoculation with Penicillium Candidum moulds. This brie has a milky and rich taste underlined by sweet and buttery flavours of mushrooms or truffles and almonds.
Drink Pairing: With a lovely light wine… Like our Muscadet Drouet, or a sparkling wine such as our Bolney Estate Blanc de Blanc
About the Maker: Brie de Meaux, named after the town of Meaux, is a French cheese produced in the region of Brie, located 50 kilometers to the east of Paris. 
How to Enjoy: On its own or with a smidgeon of Red Onion and Port Marmalade to really bring out the flavours!
Our utmost concern is get you the right cheese in the right condition right to your door. All orders are posted on a next day service so as not to spend too much time in transit. Each package will come with a gel ice pack to keep the temperature in the box as low as possible.
Standard Delivery

£6.00

Delivery within mainland UK, highland and Islands of Scotland, 3 - 5 working days.

Free Delivery

Free

Free over £40 for all mainland UK orders, 3 - 5 working days.

Local Delivery

£5.00

Set within the allocated postcodes specified. Delivery will be arranged directly.

Local Pickup

Free

Pickup directly from our York shop. We will contact when your order is ready.

Free Local Delivery

Free

Local delivery when orders are over £40, Delivery will be arranged directly.