Brie de Meaux Cheese
A soft and pungent classic, Brie de Meaux is a strong one.
It has a bloomy, aromatic rind and a buttery, sweet finish.
It was named 'The King of Cheeses' for its unarguable flavour and texture.
In stock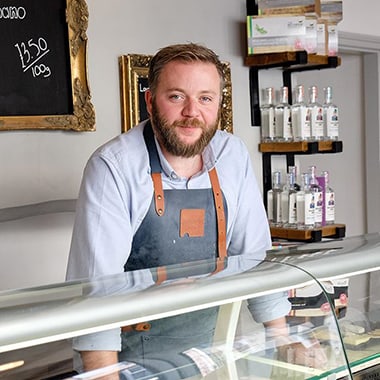 Quote from the Cheesemonger:
"The best things in life are brie, and this French classic does not disappoint…" – Harry B.
This Brie is not just any French Brie, but one of only two approved by the governing body of French cheese. It is an AOC cheese, so can only be produced in certain regions of France.
Brie de Meaux is probably the strongest of all soft white cheeses. The aroma is remeniscent to the depths of a woodland. With the rich golden pate tasting deep and complex, with notes of winter root vegetables. Be warned though, once you try our Brie de Meaux there is no going back.
This is a raw, soft unpasteurised cow's milk cheese covered with a bloomy rind, a result of inoculation with Penicillium Candidum molds. As the cheese ages, the rind develops red or brown patches. When nearly half of the straw coloured pate is ripe and soft, it indicates Brie de Meaux is ready for consumption.
The cheese pairs perfectly with Champagne, a red Bordeaux or a fruity Burgundy. Let us know if you have any potential queries about our Brie de Meaux Cheese and we will be more than happy to help.
Our utmost concern is get you the right cheese in the right condition right to your door. All orders are posted on a next day service so as not to spend too much time in transit. Each package will come with a gel ice pack to keep the temperature in the box as low as possible.
Standard Delivery

£6.00

Delivery within mainland UK, highland and Islands of Scotland, 3 - 5 working days.

Free Delivery

Free

Free over £40 for all mainland UK orders, 3 - 5 working days.

Local Delivery

£5.00

Set within the allocated postcodes specified. Delivery will be arranged directly.

Local Pickup

Free

Pickup directly from our York shop. We will contact when your order is ready.

Free Local Delivery

Free

Local delivery when orders are over £40, Delivery will be arranged directly.