Charcoal Cheese
The only all black cheddar cheese…
Deliciously creamy mature cheddar, blended with Yorkshire charcoal.
A great talking point for any dinner party.
In stock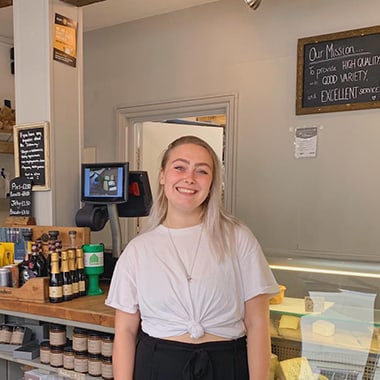 Quote from the Cheesemonger:
"It's so creamy, and the charcoal adds such an interesting dimension that it'll be a hit on any cheeseboard!" – Mollie W.
Have you ever tried black cheese? If not, we are here to broaden your horizons.
This mature cheddar is a creamy delicacy with the added intrigue of being completely black. Charcoal Cheese was the winner of the 'Best New Idea' at the Farm shop and Deli show in 2014. We are still surprised by the mismatch between the look and taste of Char-Coal!
This truly unique cheese is made with charcoal from the Featherstone mines in Yorkshire, mixed with a wonderfully creamy mature Cheddar. This cheese has an inedible black wax-coating, watch-out!
Reach out to us if you would like to find out ore about our Charcoal Cheese and we will be happy to help you.
Our utmost concern is get you the right cheese in the right condition right to your door. All orders are posted on a next day service so as not to spend too much time in transit. Each package will come with a gel ice pack to keep the temperature in the box as low as possible.
Standard Delivery

£6.00

Delivery within mainland UK, highland and Islands of Scotland, 3 - 5 working days.

Free Delivery

Free

Free over £40 for all mainland UK orders, 3 - 5 working days.

Local Delivery

£5.00

Set within the allocated postcodes specified. Delivery will be arranged directly.

Local Pickup

Free

Pickup directly from our York shop. We will contact when your order is ready.

Free Local Delivery

Free

Local delivery when orders are over £40, Delivery will be arranged directly.