Lancashire Bomb Cheese
£10.00 Each. (aprx. 460g)
Luxuriously creamy, strong and sharp with a slight sweetness and a touch of acid.
The bombs have a full flavoured taste that leaves you wanting more.
The Lancashire Bomb is presented in a traditional black wax.
In stock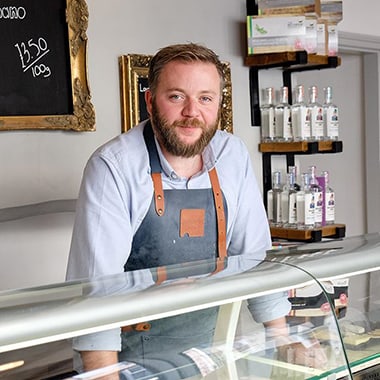 Quote from the Cheesemonger:
"Leave to out of the fridge for a while, cut the top off and dig in with your spoon. You'll soon see why some say the taste is 'explosive'." – Harry B.
Flavour Profile: A very creamy and full flavoured taste which leaves you wanting more.The cheese is matured for at least two years, giving it an exceptional creaminess and depth of flavour. 
Drink Pairing: It can be enjoyed on its own or is superb with some fruit and and a good red wine, like our Dolcetta de Alba
About the Maker: The Lancashire Bomb is the creation of the Shorrock family run dairy. The Shorrock family have been making Lancashire Cheese for generations. They use milk from their herd of Holstein Fresian cows and the Lancashire Bomb is aged for 24 months until it bursts with flavour.
How to Enjoy: Gorgeous with a chunk of crusty bread and lots of butter, topped with a hearty helping of Rosebuds Preserves' Great Yorkshire Pickle. Lancashire Bomb is also a fantastic tool in the kitchen; it adds real zing to macaroni cheese, soufflés and omelettes, while it's brilliant toasted too. When you just can't resist and have to dig in with a spoon, try pairing it with something a little spicy. Try a sweet chilli jam or a Piccalilli.
Our utmost concern is get you the right cheese in the right condition right to your door. All orders are posted on a next day service so as not to spend too much time in transit. Each package will come with a gel ice pack to keep the temperature in the box as low as possible.
Standard Delivery

£6.00

Delivery within mainland UK, highland and Islands of Scotland, 3 - 5 working days.

Free Delivery

Free

Free over £40 for all mainland UK orders, 3 - 5 working days.

Local Delivery

£5.00

Set within the allocated postcodes specified. Delivery will be arranged directly.

Local Pickup

Free

Pickup directly from our York shop. We will contact when your order is ready.

Free Local Delivery

Free

Local delivery when orders are over £40, Delivery will be arranged directly.