Comté Cheese
£6.80 Per 200g
Aged 18 months with a seriously nutty and earthy flavour, stemming from the rich mountain pastures of the Franche-Comte region.
This hard mountain cheese is matured to perfection in the silence and darkness of special caves, which is where the cheese gets its unique taste, texture and colour. It is dense, open and smooth – basically everything you want in a hard cheese, coming with beautiful fruity, nutty, salty, savoury, smokey and sweet flavours.
The aftertaste is slightly more bitter, insanely moreish and really well rounded.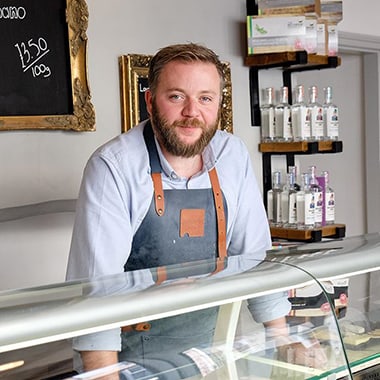 Quote from the Cheesemonger:
"Raymond Blanc's favourite cheese, we trust our Ray." – Harry B.
Flavour Profile: Due to the highly diverse pastures of the mountain land on which the cows graze, Comté can change remarkably between different wheels, however we always find a unique intense nutty depth. Ours is aged 18 months to deepen the flavour and allow some crystals to develop.
Drink Pairing: This cheese pairs well with Cotes du Rhone reds or an off-dry Amontillado sherry from Spain. Yum!
About the Maker: Comté, named after the region in which it is produced, Franche-Comte, has been produced in small cooperative dairies for many generations. Each Comté produced is inspected and awarded a score out of 20. Those scoring 15 or more are given a green label to signify that they are Comté extra; we only offer Comté extra.
How to Enjoy: Comté's ability to melt easily means it goes well with many recipes right from fondues through to Croque Monsieur!
Our utmost concern is get you the right cheese in the right condition right to your door. All orders are posted on a next day service so as not to spend too much time in transit. Each package will come with a gel ice pack to keep the temperature in the box as low as possible.
Standard Delivery

£6.00

Delivery within mainland UK, highland and Islands of Scotland, 3 - 5 working days.

Free Delivery

Free

Free over £40 for all mainland UK orders, 3 - 5 working days.

Local Delivery

£5.00

Set within the allocated postcodes specified. Delivery will be arranged directly.

Local Pickup

Free

Pickup directly from our York shop. We will contact when your order is ready.

Free Local Delivery

Free

Local delivery when orders are over £40, Delivery will be arranged directly.