Epoisses de Bourgogne – Mini Cheese
A sweet and salty, pungent delight.
Sold per full 300g round, Epoisses is a soft, oozy, washed-rind cheese.
This cheese's aroma and rind give it a certain spiciness, and has a creamy, chewy and firm texture.
In stock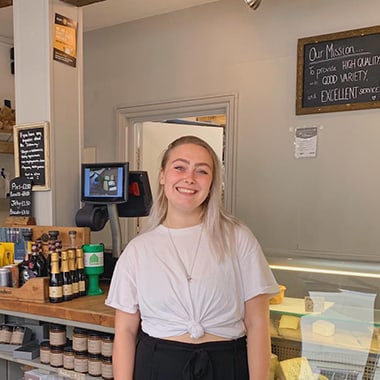 Quote from the Cheesemonger:
Quote from the Cheesemonger:
"Don't let the smell fool you, this cheese is so decadent that even the Queen couldn't refuse it when it's fully ripe." – Mollie W.
Epoisses is produced by Jacques Hennart in the village of Époisses. With a distinctive soft red-orange colour, Epoisses is categorised as a smear-ripened cheese washed in Marc de Bourgogne; a Pomace Brandy made from the remnants of winemaking.
Underneath that, there is a creamy, white interior with a delightfully daunting aroma that comes straight from the farm. Epoisses is so stinky that it is banned on public transportation in France – a country usually tolerant of such aromas… But we just love it.
It pairs well with excellent dessert wines, such as Sauternes, and even some Trappist beers pair well with this pungent delight.
Get in touch if you would like to learn more about our Epoisses de Bourgogne cheese and we will be more than happy to help further.
Our utmost concern is get you the right cheese in the right condition right to your door. All orders are posted on a next day service so as not to spend too much time in transit. Each package will come with a gel ice pack to keep the temperature in the box as low as possible.
Standard Delivery

£6.00

Delivery within mainland UK, highland and Islands of Scotland, 3 - 5 working days.

Free Delivery

Free

Free over £40 for all mainland UK orders, 3 - 5 working days.

Local Delivery

£5.00

Set within the allocated postcodes specified. Delivery will be arranged directly.

Local Pickup

Free

Pickup directly from our York shop. We will contact when your order is ready.

Free Local Delivery

Free

Local delivery when orders are over £40, Delivery will be arranged directly.