Miller's Damsels Charcoal Crackers
Charcoal crackers with a crisp texture and a striking dark colour.
With their distinctive flavour, Miller's Damsels Charcoal Crackers lend themselves better to strong cheeses, but wouldn't overpower something more delicate.
Out of stock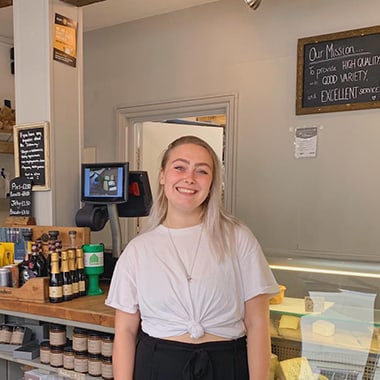 Quote from the Cheesemonger:
"The Charcoal Crackers are perfect on a cheeseboard that's meant to impress, they just look so sleek, and taste perfect with a range of different cheeses." – Mollie W.
Miller's Damsels Charcoal Crackers are the perfect accompaniment for the eye-catching cheeseboard, and they come in a gluten-free option. We also stock Miller's Damsels Buttermilk Crackers and Miller's Damsels Wheat Crackers.
Fancy something a little boozier? Then why not try Miller's Ale Crackers as a substitute for your normal nibble. They pair perfectly with Village Maid's Maida Vale Cheese, an IPA beer washed-rind cheese.
Our utmost concern is get you the right cheese in the right condition right to your door. All orders are posted on a next day service so as not to spend too much time in transit. Each package will come with a gel ice pack to keep the temperature in the box as low as possible.
Standard Delivery

£6.00

Delivery within mainland UK, highland and Islands of Scotland, 3 - 5 working days.

Free Delivery

Free

Free over £40 for all mainland UK orders, 3 - 5 working days.

Local Delivery

£5.00

Set within the allocated postcodes specified. Delivery will be arranged directly.

Local Pickup

Free

Pickup directly from our York shop. We will contact when your order is ready.

Free Local Delivery

Free

Local delivery when orders are over £40, Delivery will be arranged directly.