Miller's Damsels Charcoal Crackers
Charcoal crackers with a crisp texture and a striking dark colour.
With their distinctive flavour, Miller's Damsels Charcoal Crackers lend themselves better to strong cheeses, but wouldn't overpower something more delicate.
In stock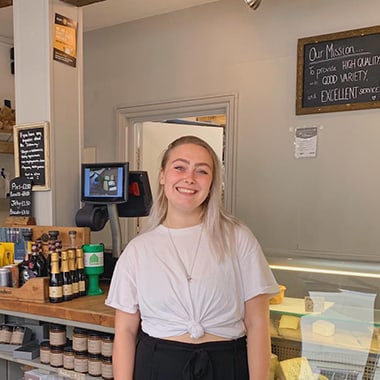 Quote from the Cheesemonger:
"The Charcoal Crackers are perfect on a cheeseboard that's meant to impress, they just look so sleek, and taste perfect with a range of different cheeses." – Mollie W.
Miller's Damsels Charcoal Crackers are the perfect accompaniment for the eye-catching cheeseboard, and they come in a gluten-free option. We also stock Miller's Damsels Buttermilk Crackers and Miller's Damsels Wheat Crackers.
Fancy something a little boozier? Then why not try Miller's Ale Crackers as a substitute for your normal nibble. They pair perfectly with Village Maid's Maida Vale Cheese, an IPA beer washed-rind cheese.
Our utmost concern is get you the right cheese in the right condition right to your door. With that in mind please allow 3-5 working days for your cheese box to arrive.
However the package will be posted on a next day service so as not to spend too much time in transit. Each package will come with a gel ice pack to keep the temperature in the box as low as possible.
Please do contact us for any further info.