Richard III Wensleydale Cheese
Slightly tart with a gentle sweetness. Creamy and milky.
King Richard III is a traditional, cloth-bound, cows' milk cheese that's moist and creamy, with a honeyed flavour and lower acidity than modern, mass-produced Wensleydale cheeses, and a world away in flavour.
When young, this cheese is clean and fresh tasting, with a mild, slightly lemony, lactic flavour that becomes honeyed.
In stock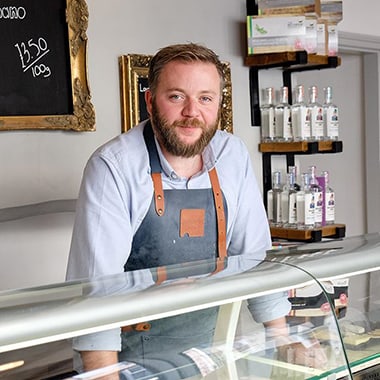 Quote from the Cheesemonger:
"There's no doubt this is from North Yorkshire." – Harry B.
Richard III Wensleydale cheese is made using an ancient, pre-war recipe. This style of Wensleydale produces a clean and light cheese with a gentle, lemony flavour with hints of honey. This cheese is creamier and not as sharp as the modern mass-produced Wensleydale. We also love that this is local to North Yorkshire and that only a small herd is used, giving more time to ensure every round is just right.
The actual King Richard lll spent a number of his childhood years in Middleham Castle in Wensleydale, some four miles from the original cheesemaker, Suzanne Stirke's, dairy. Suzanne originally revived the traditional recipe for this great, cloth-bound cows' milk cheese, and has now been passed it on to Andrew Ridley whose dairy is in Lancashire.
Want to find out more about our Richard III Wensleydale Cheese? Don't hesitate to get in touch.
Our utmost concern is get you the right cheese in the right condition right to your door. All orders are posted on a next day service so as not to spend too much time in transit. Each package will come with a gel ice pack to keep the temperature in the box as low as possible.
Standard Delivery

£6.00

Delivery within mainland UK, highland and Islands of Scotland, 3 - 5 working days.

Free Delivery

Free

Free over £40 for all mainland UK orders, 3 - 5 working days.

Local Delivery

£5.00

Set within the allocated postcodes specified. Delivery will be arranged directly.

Local Pickup

Free

Pickup directly from our York shop. We will contact when your order is ready.

Free Local Delivery

Free

Local delivery when orders are over £40, Delivery will be arranged directly.