Love Cheese: Vegetarian Friendly Cheeses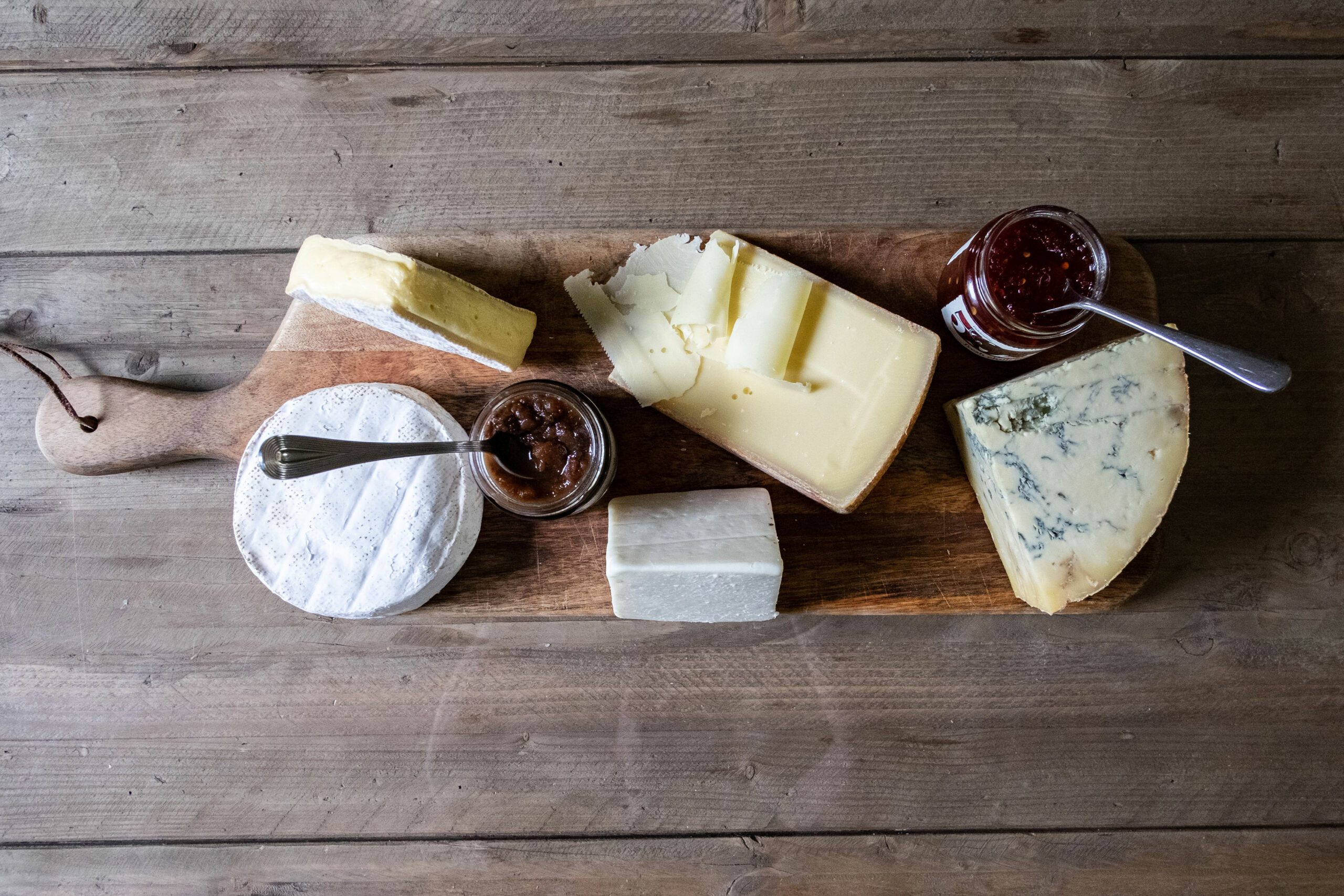 As it is National Vegetarian Week, we thought we would create a veggie friendly space for our cheeses. Here, you will find all our vegetarian friendly cheeses in one place.
Black Bomber
A top notch, extra matured cheddar that is loved for its creamy texture and deep flavour. Black Bomber is the flagship cheese of Snowdonia Cheese Company and with good reason. It's won multiple awards and while it is a classic cheddar, it comes with incredibly rich flavours, a smooth texture and mouth-watering length that will leave you wanting more.
Product Highlights
Hard
Cow
Pasteurised
Vegetarian
Montagnolo Affine
A fantastic German cheese! It's a triple creamed, blue cheese that's buttery, creamy with a very slight acidity to it. It has a sweet aroma and a beautifully soft texture. This is a wonderful blue to try for those who may not be the biggest blue fans – as it comes with a delicious saltiness thats hard not to like. Voted the worlds best cheese 2 years in a row we dare you to take the plunge and see what all the fuss is about!
Product Highlights
Blue
Cow
Pasteurised
Vegetarian
Murcia al Vino
Murcia al Vino is a goats cheese from the Murcia region of Spain. It's name literally translates to "drunken goat" and this is due to the red-wine bath the cheese receives giving it a distinct purple rind. Expect soft, fruity and delicate flavours from this semifirm cheese with a creamy and smooth texture. If you're one who normally passes on the goat pairing – this might just be mild enough for you to enjoy!
Product Highlights
Semi-Soft
Goat
Pasteurised
Vegetarian
Old Winchester
As the name suggests, this is an aged Winchester cheese. Winchester is a cheddar/gouda hybrid and Old Winchester is no different. Aged for 20 months, this is a cheese that is explosive in flavour and texture alike. You'll be getting beautifully caramelised and smoky flavours coming through with gorgeous crystalline crunches. This is a powerful, fruity cheese, with a full sweet flavour. The perfect cross between Gouda, Parmesan and Cheddar, this is a cheese that will make your mouth water.
Product Highlights
Blue
Cow
Pasteurised
Vegetarian
Pregnancy Safe
Rachel
Rachel is the perfect cheese for those who enjoy a lighter cheese that is not too "goaty" in flavour. It is bold in flavour with a distinct goaty taste that is mellowed out by its salty rind. While still a goats cheese it is more subtle and perfectly light on the tongue. Fun Fact: It was named after a friend of the cheesemaker who says – like the cheese she is sweet, curvy, and slightly nutty!
Product Highlights
Hard
Goat
Pasteurised
Vegetarian
Red Storm
A vintage Red Leicester, aged to perfection. This wonderful cheese from Snowdonia has gorgeous crystalline crunches and a surprisingly intense flavour profile. It comes with a slight sweetness, with lovely caramel undertones. Its texture is wonderfully refined due to its 18-month ageing process. We cannot get enough. If your cheese board needs a bit of colour, look no further!
Product Highlights
Hard
Cow
Pasteurised
Vegetarian
Ribblesdale Matured Goats
Here is a cheese that will demand second helpings – and with good reason! It's sweet and grassy aroma combined with a superb crumbly texture is the perfect definition of 'Best of British'. A goat's cheese that is subtle on the goat, Ribblesdale Mature provides nutty, fruity flavours with a slight caramel hint that compliment each other in unison to create a well-rounded and balanced cheese that becomes slightly more 'goat-y' as it gets to the rind.
Product Highlights
Hard
Goat
Pasteurised
Vegetarian
Richard III
This creamy cheese follows the classic Wensleydale recipe but has less acidity that sometimes comes with Wensleydale cheese. It's fantastically creamy, with a delicate honey-like flavour, citrus notes and a moistness that compliments beautifully. It's name comes from King Richard III who spent a lot of time as a child in Wensleydale at Middleham Castle not too far from the original Richard III cheesemaker.
Product Highlights
Hard
Cow
Pasteurised
Vegetarian
Smoked Northumberland
This is a strong place to start on a journey into artisan smoked cheese. It has won multiple awards and for good reason! It is cold-smoked over wood chippings for 12 hours, to develop a bronzed outer core and a beautifully smoky taste. Smoked Northumberland cheese is the real deal; once the cheese has been smoked for 12 hours, it is then matured for 3 months to deepen the flavour.
Product Highlights
Hard
Cow
Pasteurised
Vegetarian
Torta de Barros
There is a tradition in Spain of making ewes' milk cheeses using cardoon thistle rennet. This leads to the cheese age from the inside out, making the middle really unctuous and oozy and resulting in a full flavour .This cheese has a delicate and very particular flavour. Slightly sour with a flood of herb flavours and an elegant bitter aftertaste due to the use of the vegetable rennet.
Product Highlights
Sewi-Soft
Ewe
Unpasteurised
Vegetarian
Waterloo
The Napoleonic British brie. Exquisitely buttery. Waterloo has a creamy, firm texture and the ultimate buttery finish.The washed curd method they use makes the cheese less acidic with a gentle buttery flavour. Village Maid's herd of pedigree Guernsey cows are responsible for the distinct yellow colour and the sweet and smooth taste.Waterloo is a buttery, creamy goodness with a hint of earthiness from the rind.
Product Highlights
Soft
Cow
Unpasteurised
Vegetarian
Wigmore
A sophisticated, soft cheese full of vibrant flavours and great texture. Expect a complex, floral and sweet palette that will leave you wanting a little more each time. Indulgent, yet delicate Wigmore comes from Village Maid and is made using traditional methods for hand-washed, curd cheese. It's a gentle cheese but powerful in its own right and we can't get enough of it!
Product Highlights
Soft
Ewe
Unpasteurised
Vegetarian
Wyfe of Bath
Made following a Gouda inspired recipe, Wyfe of Bath is made by Graham Padfield at Park Farm, on the outskirts of Bath. You'll pick up summery meadow notes and buttery aromas in this creamy, succulent cheese. The rind adds to its nutty taste, thanks to the cheese ageing for four months to give a deep flavour. Its taste changes ever so slightly according to the season, as it's made from the milk of one single herd of cows – but it's always sweet and rich.
Product Highlights
Hard
Cow
Pasteurised
Vegetarian